Personalised Wilderness Tours
Immerse yourself in the stunning beauty of Australia's largest national park system on a wonderful 3 or 4 day one-way tours
4 star 4x4 Tours
Come experience the largest national park system in Australia and home to the Man From Snowy River legend.
Join MudMaps for a great expedition discovering the magnificent mountain areas of the Australian Alps while you travel between Sydney and Melbourne. Our personalised wilderness tours depart daily on demand and last either 3 or 4 days between Sydney, Canberra and Melbourne. Our 4x4's give you the ability to access wonderful areas not accessible in normal buses or cars.
4 Days between Sydney and Melbourne
Going in either direction we spend 4 days travelling overland between Sydney and Melbourne. You'll visit and stay on a working farm, discover Australia's National Capital, and wonder at the huge wilderness area in some of the 11 National Parks that make up the Australian Alps.
Immerse yourself in Australia's Man From Snowy River country and culture
Wildlife awaits you in the largest national park system in Australia
3 Days between Canberra and Melbourne
Again, going in either direction we spend 3 days on an overland journey between the two capital cities. Immersing yourself and exploring the amazing variety and natural wonders of the huge Australian Alps wilderness national park system
3 days in the high country exploring the Australian Alps
From mountains to the Capital you'll discover what makes Australia tick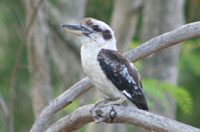 Content
Luxury 4WD
Most meals
Farmstay and Resort accom.
Free downtown hotel pickup
3-6 hours per day travel
Availability
On Demand
All year
Ages 4 and above
Highlights
The beautiful Snowy River
Magnficent mountain scenery incl. the spectacular Barry Way
Native forests & local wildlife
Personalised, flexible charter tour with professional guides
Warm & friendly local high country people