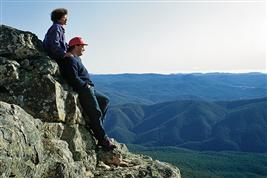 Clear Mountain Vistas
Australia surprisingly has more snow country than Switzerland as the alpine mountains stretch for hundreds of miles. Its lack of pollution delivers wonderfully clear vistas for much of the year.
View more ›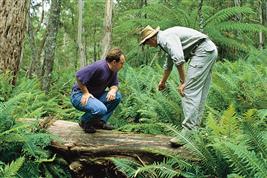 Sub-Alpine Rainforests
Tucked away in protected valleys in the Australian Alps you'll discover lush rainforest and seas of tree ferns.
View more ›
Gang Gang Cockatoo (male)
A distinctively colourful cockatoo with a call like a squeaky door or wine cork this friendly bird can be approached quite closely.
View more ›
Mountain Cattlemen's Huts
Once used by summer grazing folk way up high in the mountains today the Mountain Cattlemen's Huts are used by visitors and those seeking shelter in bad weather.
View more ›
Campfires & Billy Tea
You haven't lived until you've had a fresh cup of Billy Tea in the Aussie bush around a campfire.
View more ›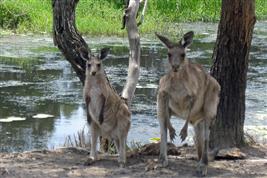 Eastern Grey Kangaroo
The most common of the 4 major kangaroo types in Australia. Found in or near many forested areas throughout Australia incuding the Australian Alps. You won't go home without seeing one of these with MudMaps.
View more ›
Alpine Forests
There are around 9 different ecosystems in the Australian Alps including the strange white-coloured alpine forests.
View more ›
Black Sallee
One of the strange alpine trees that prefers the colder, wetter parts of the mountains.
View more ›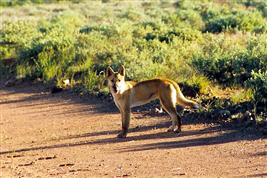 Dingo
Australian Dingoes (wild dog) are found throughout Australia despite the introduction of the 5,000+km dingo fence in the 1880s. The wild dogs in the High Country can be a variety of colours and tend to have mixed-breeding thesedays.
View more ›